Explore Ludwigsburg with a local expert
A wide range of fun city tours on demand
Throughout the year, you can choose from a varied program of guided tours in several languages. In addition to a classic city tour on foot or by bus, there are entertaining themed tours, as well as tours led by costumed guides all offering extra and entertaining insights into Ludwigsburg's history and the famous people who lived here.
Please note: International tours can only be booked for groups on certain specific dates. If you are interested in a group tour, please contact Ludwigsburg Tourist Information. The cost for these special tours is between € 90.00 and € 115.00 per group, depending on the type of tour.
Ludwigsburg Tourist Information Center
Eberhardstraße 1
71634 Ludwigsburg
GERMANY

Tel: +49 7141 9102252
Fax: +49 7141 9102774
Email: touristinfo@ludwigsburg.de
EN | FR | ES | IT | RU | ZH | JA
City tour: Ludwigsburg at a glance
This is the perfect tour for anyone that wants to get a quick flavor of Ludwigsburg's colorful 300-year-old history. During a one-and-a-half-hour walk through the city center, our guides offer fun anecdotes and facts about the Baroque city and answer all your questions.
EN
To get the most out of a bus tour to Ludwigsburg's three palaces, practice your royal wave! Arrive in the palace courtyard; step out of the bus; feel like a king or queen for the day!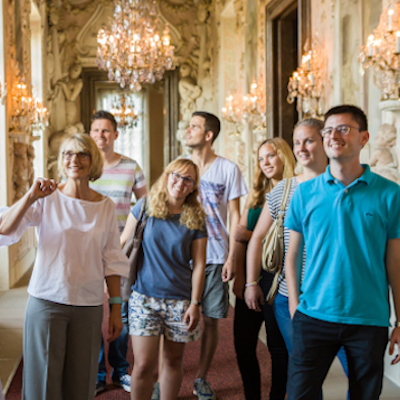 EN | FR | ES | ZH
Palace tours: a right royal experience!
To appreciate the scale, history and grandeur of Ludwigsburg Palace, take a guided tour that both informs and entertains. As well as the unique Baroque residence, there are pleasure palaces and a grand garden.
EN
Costumed tour: Anna the Kitchen Maid
Want the inside information on where to buy the best things at the market? Join Anna, the chatty kitchen maid, as she takes us on a shopping spree - in 1815!
EN
Puzzle walks: take the challenge
For a walking tour with a difference, take on a series of puzzles and riddles that incorporate various locations in Ludwigsburg. It's all about using your brains…and having fun!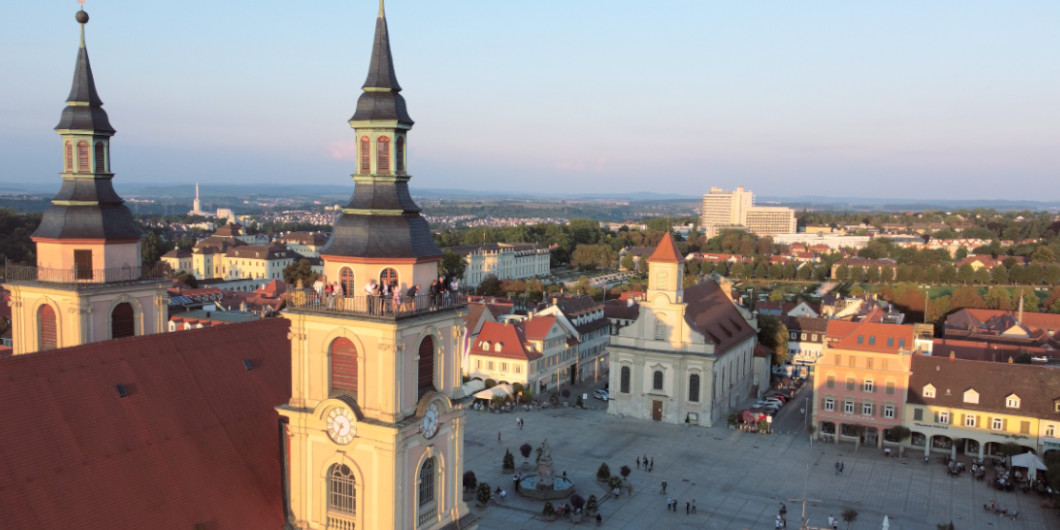 EN | ES
Evening pleasures: cocktails at sunset
At sunset, sip a Sundowner cocktail (or a soda) and hear tales about 300 years of Ludwigsburg history. Then climb the tower of the Protestant church for fabulous sunset panoramas.
Even more exciting tours in German
In addition to our multi-lingual tours for international visitors, we also offer, of course, an even greater choice of themed tours with German-speaking guides. The impressive list ranges from culture, history and nature tours to vineyard, jogging, cycling and Segway tours. Click here to explore the inspiring range of experiences on offer.
Special experiences with a wow factor!
Are you looking for a bit of variety, even a bit of adventure during you vacation? From sport and wine tasting to wellness and gourmet experiences, for couples, groups, families or even company events, Ludwigsburg is the place for you!

Here are just some the various experiences that we have on offer. To find out more or any topic, just click on the link below or contact the Tourist Information Office direct by phone or email. We are always happy to help and advise you!